---
Manufacturing is the main division of the company. A new Viking Turbo 505 automatic nailing machine is the driving force of the production. This machine allows high production and flexibility to the company to meet the changing needs of the customer base. Smaller quantities are assembled manually using pneumatic nail guns at several assembly stations.



Remanufacturing is the second division of the company. Broken pallets are restored to their original condition by replacing any broken or missing boards on the pallet. Pallets are then designated as to specific grades and then sold to the end users, our customers.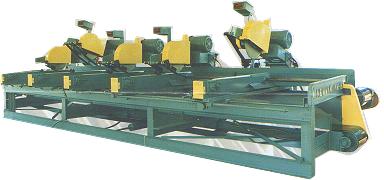 Sawmill Operations became a necessity to meet the demands of our customer base. We needed to have immediate turn-around to meet the ever- decreasing lead times demanded by our customers. The sawmill operations consist of several saws, re-saws, notching machines and various other pieces of equipment.
---
[ Products ] [ Manufacturing ] [ Online Quote ] [ Requirements ] [ Home ]

---
Cardinal Pallet Co.
505 West. 43rd Street
Chicago, Illinois 60609
Phone: (773) 285-0400 or (773) P.A.L.L.E.T.S
Fax: (773) 285-8495